Donner Canadian Foundation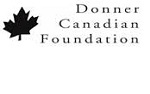 Grants for environmental conservation and community-based sustainable development
Principal Office: Canada
The Donner Canadian Foundation makes grants for public policy research, environment, social service projects, and international development.
Grant making includes interests in land and wildlife conservation in Canada and internationally.
Grant Programs for Agriculture, Energy, Environment, Natural Resources
Grants in support of international affairs; grants in support of conservation. Some of the Foundation's grants in these two program areas support projects related to wildlife conservation, water supply, and other dimensions of natural resources in the developing world.
Donner's grants are restricted to organizations that have Canadian charitable status.
The majority of grants range from CAN$5 thousand to CAN$100 thousand, with a few that are larger.
APPLICATION: The Foundation does not regularly respond to letters of inquiry or unsolicited requests for funding.
However, it maintains information about charitable organizations and their work. Organizations may send a brief description of their goals and programs to the Foundation's Executive Director. If there is a potential match with the Foundation's interests, Donner will reply to request more information.
About requests for funding
Geographical Distribution of Grant Activities in Developing Countries
Worldwide
Comments
Donner's website is available in English and French.
The Foundation has an interest in "International Development and Human Rights." Most grants are for projects in health, education, women's rights, and humanitarian issues – sometimes connecting to issues of natural resources, e.g., community water.
In addition to its grant making, the Foundation annually offers the Donner Prize for the best book on public policy by a Canadian. It sponsors the Donner Awards to recognize outstanding efforts by Canadian nonprofit organizations which deliver social services in Canada.
Contact provides information for the Foundation's office in Toronto.
Last Profile Review
 May 2017