International Development Exchange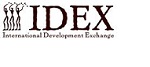 Grants for grassroots projects in agriculture, water resources, climate change, and other environmental concerns
Principal Office: USA
International Development Exchange (IDEX) is a nonprofit organization that makes long-term grants towards grassroots solutions to poverty in Africa, Asia, and Latin America.
Leading themes at IDEX are empowering women; building local economies; and caring for the environment.
Grant Programs for Agriculture, Energy, Environment, Natural Resources
Caring for the Environment. Grant making in IDEX includes attention to sustainable agriculture; erosion control; water security; climate change; environmental conservation; and related issues in natural resources management and environment at the community level.
These concerns are integrated with empowerment of women and girls, health and nutrition, training and education, and other social issues.
Grant recipients are nonprofit partner organizations in selected countries. IDEX prefers to work with mid-size grassroots organizations that have management and accounting systems in place, but that remain sufficiently small to be effective at the community level.
Partner grants range from US$15 thousand to US$50 thousand per year over three years. Catalyst grants (i.e., first-time grants) usually are US$5 thousand.
About the program
APPLICATION: IDEX does not accept unsolicited grant requests.
However, interested development organizations in the IDEX partner countries (Guatemala, India, Mexico, Nepal, Peru, South Africa, Zimbabwe) can contact IDEX regarding the selection criteria for Catalyst Grants.  IDEX invites the most successful of these small grantees to become its partners, and to benefit from continued and expanded funding.
About grant making
Geographical Distribution of Grant Activities in Developing Countries
IDEX currently works with partner organizations in the countries identified below.
South Asia: India, Nepal
Sub-Saharan Africa: South Africa, Zimbabwe
Latin America and Caribbean: Guatemala, Mexico, Peru
Comments
The IDEX website is available in English, and partly in Spanish.
The Frequently Asked Questions (FAQ) summarize the role of IDEX.
IDEX lists its current Catalyst Grants.

Contact Us offers complete information, including an email form.
Last Profile Review
 June 2016