Ernest Kleinwort Charitable Trust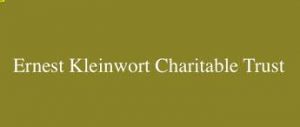 Grants for wildlife and environmental conservation in the UK and internationally
Principal Office: UK
The Ernest Kleinwort Charitable Trust makes grants to charities working in wildlife and environmental conservation; charities operating in the county of Sussex (UK); and charities working in family planning.
The Trust's grant making for wildlife and conservation supports programs and projects in the UK and internationally.
Grant Programs for Agriculture, Energy, Environment, Natural Resources
Grants for wildlife and environmental conservation. The Trust makes grants in the area of wildlife and environmental conservation in the UK and internationally. The international grants are primarily for conservation in the developing world.
Most funding for international activities is to international conservation organizations, and to UK organizations that manage international programs.
The Trust makes one-off grants, and exceptionally it makes conditionally renewable grants.
There are no limits on grant size, although most do not exceed £50 thousand.
APPLICATION: There is no application form. Grant seekers provide a short summary of their projects; a short description regarding how the project will be monitored and its results disseminated; information about complementary funding; and other supporting details.

Applications can be submitted any time; there are no deadlines.
The majority of applications are considered approximately every four months. Proposals seeking large grants (over £10 thousand) are considered at twice-yearly meetings.
About how to apply
Geographical Distribution of Grant Activities in Developing Countries
Worldwide
Comments
Grant applicants should consult the Frequently Asked Questions (FAQ).
The Kleinwort family has a strong historical association with WWF in the UK and internationally.
The Trust posts its contact information.
Last Profile Review
 December 2016