Save Our Species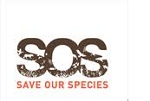 Grants for conserving threatened species of plants and animals and their habitats
Principal Office: International
The Save Our Species (SOS) fund was founded in 2010 by the World Conservation Union (IUCN), Global Environment Facility (GEF), and World Bank. The Fund makes grants to conserve threatened species and their habitats on a worldwide level.
SOS is managed through a secretariat housed within IUCN. Grants are allocated according to strategic directions determined by IUCN`s Species Program and Species Survival Commission.
Grant Programs for Agriculture, Energy, Environment, Natural Resources
Grants for conservation of threatened species and their habitats. Threatened species are those listed as Vulnerable, Endangered, or Critically Endangered on IUCN's Red List. The Fund makes two types of grants.
Threatened Species Grants — Grants address specific conservation priorities determined by IUCN, with new priorities in SOS added each year. Grants range from US$25 thousand to US$800 thousand for projects of one to two years. The average grant size is about US$100 thousand.
Rapid Action Grants — These are comparatively smaller grants to address emergencies that demand specific and targeted conservation actions. Rapid Action Grants can focus on any threatened species, i.e., including species outside current strategic priorities of the Threatened Species Grants. Grants are a maximum of US$25 thousand for up to one year.

SOS makes grants to NGOs, community groups, and other civil society organizations. Government agencies are not eligible.
APPLICATION: SOS accepts applications online. Applicants need to register in order to have access to the grant application tool.
Threatened Species Grants: Grants are made through a call for proposals. Each call specifies the grant priorities (SOS Strategic Directions), available funding, grant size, submission deadline, and supporting information.
Rapid Action Grants: Applications can be submitted at any time (i.e., without calendar deadlines). SOS aims to make its funding decisions within one month of proposal submissions.
About the program, and how to apply
Geographical Distribution of Grant Activities in Developing Countries
Worldwide
Note: Activities financed through SOS must be carried out in the World Bank's client countries.
Comments
Grant seekers should review currently funded projects for an overview of the Fund's interests.
Grants have co-funding requirements that vary in relation to the grant amounts. However, there is no co-funding requirement in the case of the Rapid Action Grants.
Last Profile Review
 May 2016