Asia Foundation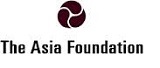 Grants for environmental protection and management in the Asia-Pacific region
Principal Office: USA
The Asia Foundation is committed to the development of a peaceful, prosperous, just, and open Asia-Pacific region.
The Foundation supports Asian initiatives in governance and law, economic development, women's empowerment, regional cooperation, and the environment.
Grant Programs for Agriculture, Energy, Environment, Natural Resources
Environmental Resilience. The Foundation's thematic areas in Increase Environmental Resilience are as follows:
Disaster risk management and climate change adaptation
Climate change mitigation and green growth
Natural resources management
About the program
The Foundation makes most of its grants to organizations based in the Asia-Pacific region. It does not make grants to individuals, nor to organizations in the USA.
Grant recipients are mainly civil society organizations, together with institutions for research and education. Other grant recipients include business associations, government organizations (e.g., environmental planning, water and sanitation, energy supply, etc.), and others.
APPLICATION: Potential applicants review the program areas and project lists in order to understand the Foundation's grant-making areas and priorities.
Applicants send a brief letter of inquiry (LOI) to the Foundation's relevant country representative to determine whether the Foundation's interests and funds permit it to consider the request.  Based on the LOI, the Foundation's staff may raise questions about the proposed project, and/or ask the grant seeker to submit a formal proposal.
There is no calendar deadline.
About how to apply
Geographical Distribution of Grant Activities in Developing Countries
The Asia Foundation has programs in the following developing countries, applying the regional classification of the Terra Viva Grants Directory.
Southeast Asia and Pacific Islands: Cambodia, Fiji, Indonesia, Laos, Malaysia, Marshall Islands, Micronesia, Nauru, Philippines, Solomon Islands, Thailand, Timor-Leste, Tonga, Vanuatu, Vietnam

East Asia: China, Mongolia
South Asia: Bangladesh, India, Nepal, Pakistan, Sri Lanka
Eurasia and Central Asia: Afghanistan
Notes: The Foundation also works with Singapore, South Korea, and with some Pacific Islands not recognized as countries in the Terra Viva Grants Directory.
Comments
Contact Us is a directory of the Foundation's offices in California, Washington, and the Asian countries where it is represented.
Last Profile Review
 January 2017