Gadfly Project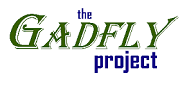 In-kind technical support and fee reductions for custom software that can be applied for natural resources management
Principal Office:   USA
The Gadfly Project provides advanced software to entities committed to promoting peace, environmental sustainability, economic development, and quality-of-life advancements worldwide.
Grants take the form of contributed (in-kind) support and reduced fees for non-profit organizations seeking specialized software, including for projects to conserve and manage the natural environment.
Grant Programs for Agriculture, Energy, Environment, Natural Resources
1– Custom Web and Mobile Application Development (CWMAD). CWMAD makes in-kind grants to non-profit organizations needing software to improve their operations and outreach.
Eligibility for support extends to any project that focuses on improving the well-being of humanity and/or the natural environment. Past examples include software for water management, software to map human conflict patterns, and others.
CWMAD does not make cash grants. Rather, the Gadfly Project offers in-house expertise and resources for the software development.
2–Wildlife Incident Data Exchange (WIDE). WIDE is a platform to help wildlife scientists document incidents and store that data for future analysis. The incidents include wildlife sightings, migrations, poisonings, and deaths.
To promote expanded use of the WIDE platform, the Gadfly Project will offset a share of the WIDE integration fee for approved projects. The fee reduction ranges from 1% to 80%, based on the importance and impact of the project, and on the economic capacity of the organization. Preference is given to projects with greater economic constraints.
APPLICATION (for 1-2 preceding):
 The Gadfly Project publishes submission guidelines for each of CWMAD and WIDE. Submissions are sent by email.
Requests for support can be submitted at any time. There are no calendar deadlines.
Geographical Distribution of Grant Activities in Developing Countries
Worldwide
Comments
Gadfly manages an entrepreneurship support program to provide custom software to viable companies and ideas around the world. Gadfly provides the software in return for an equity position in each supported company.
Last Profile Review
April 2019