McKnight Foundation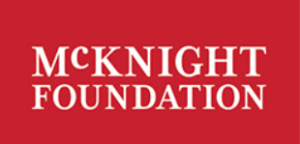 Grants for community management of natural resources in Southeast Asia, and for research to support smallholder agriculture in Africa and Latin America
Principal Office: USA
The McKnight Foundation funds a variety of philanthropic initiatives in order to improve the quality of life for present and future generations.
McKnight's international grant making comprises a focus area to support traditional communities in Southeast Asia whose livelihoods depend on natural resources, and a program in agricultural research to support smallholder farming in Sub-Saharan Africa and Latin America.
Grant Programs for Agriculture, Energy, Environment, Natural Resources
The Foundation makes grants to tax-exempt charitable organizations in the USA, and to nonprofit and international organizations which work in other countries where McKnight is active.
1 — Southeast Asia. The program makes grants to help local institutions and initiatives that improve livelihoods in Cambodia, Laos, and Vietnam. The emphasis is strengthening indigenous and ethnic minorities in their community resource rights related to land and natural resources, and promoting a balanced approach in natural resources management. Most grants range from US$20 thousand to US$150 thousand.
APPLICATION: Grant seekers consult the program's guidelines and application instructions. Eligible applicants submit initial inquiries online, according to a calendar schedule posted on the website. McKnight reviews these initial inquiries in order to invite selected applicants to submit full proposals.
Note: McKnight uses a closed application process for grants in Laos, Vietnam, and the Southeast Asia region. In Cambodia, grants are provided through the Southeast Asia Development Program (SADP). 
About the focus area and how to apply
2 — Collaborative Crop Research Program. The CCRP is jointly administered by the McKnight Foundation and Cornell University (USA). The program makes grants for agricultural research to improve food production and the nutritional content of crops important in the developing world, with a focus on Sub-Saharan Africa and the Andes region of Latin America.
APPLICATION: The CCRP operates on the basis of announced requests for concept notes and proposals. These announcements are posted on CCRP's website, including eligibility criteria and guidelines on how and when to apply.
About the program and how to apply
Geographical Distribution of Grant Activities in Developing Countries
Southeast Asia and Pacific Islands: Cambodia, Laos, Vietnam
Sub-Saharan Africa
Latin America and Caribbean
Comments
McKnight offers a directory of funded projects by program area and year of funding, which can be useful to grant seekers.
The Foundation posts frequently asked questions (FAQ).
McKnight provides contact information.
Last Profile Review
June 2020