Monsanto Fund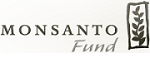 Grants to support education and basic needs in agricultural communities where Monsanto is active
Principal Office: USA
The Monsanto Fund is the philanthropic organization of the Monsanto Company, an international producer of agricultural seeds, chemicals, and other products for agriculture.
The Fund makes grants in the USA and internationally to strengthen farming communities and communities where Monsanto is active.
Grant Programs for Agriculture, Energy, Environment, Natural Resources
International Grants. The Monsanto Fund makes grants to improve education and basic needs in communities where Monsanto is active. Basic needs include food security, sanitation, access to clean water, and others.
Eligibility for Monsanto's international grants extends to tax-exempt charitable organizations in the USA; equivalent tax-exempt charitable organizations in other countries; units of government; and private schools and hospitals that serve economically disadvantaged populations.
APPLICATION: The Monsanto Fund shares calls for proposals.


Each open call contains eligibility criteria, FAQs and program info.
About the program, and how to apply
Geographical Distribution of Grant Activities in Developing Countries
Monsanto's grant-making priorities are where Monsanto has employees, facilities, or strategic business interests. The following developing countries are eligible for grants, using the regional structure of the Terra Viva Grants Directory.
Southeast Asia and Pacific Islands: Indonesia, Philippines, Vietnam
East Asia: China
South Asia: India (separately managed)
Eurasia and Central Asia: Turkey
Eastern Europe and Russia: Russia, Ukraine
Middle East and North Africa: Jordan, Syria
Sub-Saharan Africa: Burkina Faso, Ethiopia, Ghana, Kenya, Malawi, Nigeria, South Africa, Tanzania, Zambia
Latin America and Caribbean: Argentina, Brazil, Chile, Colombia, Guatemala, Honduras, Paraguay, Uruguay
Comments
The Fund provides grant-writing tips from successful past grant winners.
Contact Us includes a category to inquire about Monsanto's country representative.
Last Profile Review
 May 2018