Oak Foundation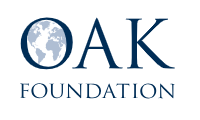 Grants for climate change mitigation, wildlife conservation, and the conservation of marine resources
Principal Office: Switzerland
The Oak Foundation addresses issues of global social and environmental concern, particularly those that have impacts on the lives of the disadvantaged. The Foundation makes grants to organizations in approximately 40 countries.
Among several program areas funded by the Oak Foundation, the one of principal importance in the Terra Viva Grants Directory is Environment.
Grant Programs for Agriculture, Energy, Environment, Natural Resources
Environment. The environment program has themes in marine conservation, climate change, and wildlife conservation.
Marine Conservation — Oak's strategy in marine conservation focuses on industrial fishing, small-scale fisheries, and plastics pollution. It supports organizations based in Europe, the Arctic, East Asia, and Africa.
Climate Change — Grants support the reduction of greenhouse gas emissions in North America, Europe, and some emerging economies, e.g., Brazil, China, and India. Activities include implementing systems that support clean and efficient energy; building sustainable cities; bringing down barriers to the widespread use of electric vehicles; and working to shift paradigms about energy use and pollution. 
Illegal Wildlife Trade — This is a new focus area in the Oak Foundation to conserve populations of African elephants and rhinos by curbing their illegal hunting and trade.
About the program in Environment
The Foundation makes grants to nonprofit organizations that include foundations, institutes, NGOs, associations, educational organizations, and others.
Grants in the environment program generally range from US$25 thousand to US$7 million.
APPLICATION: Most grant applications are invited by the Foundation's staff, but the Foundation does accept unsolicited Letters of Inquiry.
Grant seekers are requested to study the Foundation's grant-making criteria, and to review previous grants in its grants database.
Applicants that meet the Foundation's requirements can submit Letters of Inquiry according to the relevant guidelines. Letters of inquiry may be submitted at any time.
About how to apply
Geographical Distribution of Grant Activities in Developing Countries
Worldwide
Comments
The Oak Foundation maintains a grants database.
The Oak Foundation in Zimbabwe helps to maintain and develop non-governmental organizations that have social, health, and education aims. One part of the Zimbabwe program is support for rural water supplies.
The India Program aims to improve the lives of the most marginalized groups; institutionalize practices that address poverty and social injustice; and build strong organisations at the grassroots.
The Brazil Program focuses on child abuse, issues affecting women, homelessness, human rights and the environment in the Recife metropolitan area.
Contact Us provides information for the Foundation's offices in Geneva and worldwide.
Last Profile Review
June 2020