Paul K. Feyerabend Foundation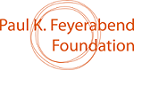 Grants in support of grassroots conservation, land and resource rights of indigenous and local communities, and traditional knowledge in managing natural resources
Principal Office: Switzerland

The Paul K. Feyerabend Foundation (PKF) promotes the empowerment and well being of disadvantaged communities. The Foundation strives to improve local capacities, promote respect for human rights, and sustain cultural and biological diversity.
PKF's choice of projects focuses heavily on communities in the developing countries in relation to issues of environment and natural resources.
Grant Programs for Agriculture, Energy, Environment, Natural Resources
Grants in support of community and solidarity. The principal grant-making interests of the Foundation include land and resource rights of indigenous and local communities; connections between cultural and natural heritage; traditional knowledge in managing natural resources; and grassroots environmental conservation.
The maximum grant is €10 thousand for one or two years.
APPLICATION
: The PKF works through a network of nominators. Grant seekers approach the Foundation through these nominators.
Nominators receive the applications, ask questions to help formulate the projects, and transmit the most promising applications to the Foundation.
For applicants who do not know any nominators, PKF provides an email contact address.
About how to apply
Geographical Distribution of Grant Activities in Developing Countries
Worldwide
Comments
The Foundation's website is available in English, French, and Spanish.
Paul K. Feyerabend was a philosopher and historian of science who defended everyone's freedom to think, decide, and determine one's own priorities and values.
The Paul K. Feyerabend Award (PKF Award) is given to exemplary individuals, communities, and organizations that have succeeded in bringing about crucial and lasting changes under difficult conditions. Each award is €5 thousand and a certificate.
The Foundation's interests are reflected in its supported initiatives.
Contact provides an online contact form.
Last Profile Review
September 2021