Wallace Global Fund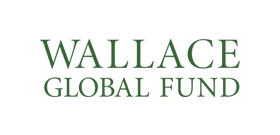 Grants in support of social and political action to promote environmental and social sustainability at a global scale
Principal Office: USA
The mission of the Wallace Global Fund is to promote an informed and engaged citizenry, to fight injustice, and to protect the diversity of nature and natural ecosystems upon which all life depends.
The Fund supports initiatives related to planetary carrying capacity and sustainable human population. It seeks to stop environmental resource depletion and system collapse.
Other areas of interest include women's human rights; civic engagement and civil liberties; limiting the concentration of corporate power; equal justice; independent media; and media policy.
Grant Programs for Agriculture, Energy, Environment, Natural Resources
Grants in support of global environment. In the area of natural resources and environment, the interests of the Wallace Global Fund include the following, among others:
Challenges to large-scale development programs that negatively affect local populations;
Promoting demand for environmentally-sound products;
Developing and strengthening environmental law and justice;
Building grassroots coalitions in favor of policies and actions for environmental sustainability;
Support for media that take progressive positions on social and environmental issues.
About programs
Grants are to nonprofit charitable organizations in the USA, and to organizations outside the USA that have equivalent charitable status. The Fund makes many grants to activist groups for advocacy campaigns, awareness raising, and citizen engagement in environmental policy and governance.
Grants are for either core or project-specific support. Most grants range from US$20 thousand to US$100 thousand, with a few that are larger.
APPLICATION:
The application process begins with a letter of inquiry
(LOI)
submitted online.
Applicants provide the name of their program or project; a mission statement; a description of the initiative for which they seek funding; a project budget; and information about other funding sources.
Based on this initial submission, the Fund will advise applicants if a full proposal is warranted.
There are no deadlines; the Board meets several times a year.
About how to apply
Geographical Distribution of Grant Activities in Developing Countries
Worldwide
Comments
The Wallace Global Fund is guided by the vision of the late Henry Wallace, former U.S. Secretary of Agriculture under Franklin D. Roosevelt.
The original Wallace Genetic Foundation split into three separate foundations in 1995: the Wallace Genetic Foundation; the Wallace Global Fund; and the Wallace Research Foundation.
Last Profile Review
September 2021