John D. and Catherine T. MacArthur Foundation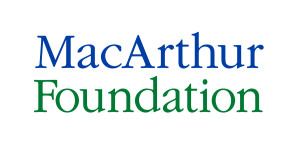 Grants for ecosystem conservation, coastal-marine conservation, and policy support for cross-cutting environmental issues
Principal Office: USA
The John D. and Catherine T. MacArthur Foundation defines itself as supporting creative people and effective institutions to build a more just, verdant, and peaceful world.
MacArthur is among the largest independent foundations in the USA. MacArthur makes grants in the USA and in about 60 other countries.
In its international grant making, the program area of primary interest in the Terra Viva Grants Directory is "Conservation and Sustainable Development".
Grant Programs for Agriculture, Energy, Environment, Natural Resources
Conservation and Sustainable Development. The Foundation's strategy in this program area contains multiple themes, as follows:
Ecosystem Conservation — The Foundation provides funding support for ecosystem conservation in three world regions of global strategic importance for biodiversity conservation, water production, and carbon storage:

Great Lakes of East and Central Africa;

Greater Mekong and its Headwaters; and

Watersheds of the Andes.
Coastal-Marine Conservation — MacArthur supports marine conservation in the Caribbean region, Madagascar, Indonesia, and Melanesia. The emphasis is community management of fisheries, marine habitats, and coastal resources.
Policy Support for Cross-Cutting Global Issues — MacArthur complements its regional conservation strategies with funding support for policy development in several key issues:
Climate change mitigation and adaptation;

Role of China in global conservation;


Integrating environmental and social factors in commodities markets; and

Addressing the problems of marine overfishing.
About the program in Conservation and Sustainable Development
The Foundation makes grants to non-profit organizations, and occasionally to for-profit groups for projects that have charitable purposes. In the program Conservation and Sustainable Development, grant recipients are selected on a worldwide basis.
Grant recipients in Conservation and Sustainable Development are conservation NGOs; international organizations; educational institutions; museums and botanical gardens; training institutes; research institutes; and similar organizations.
Most grants range from US$50 thousand to US$800 thousand for periods of one to three years.
APPLICATION: Grant seekers review the Foundation's guidelines and funding cycles in Conservation and Sustainable Development.
Note: All grantmaking will conclude by 2020.
About how to apply
Geographical Distribution of Grant Activities in Developing Countries
Grant programs in Conservation and Sustainable Development are worldwide (i.e., the policy component) and bio-regional.
Below we identify the countries in the programs comprising Mekong Basin, Great Lakes of Africa, and Andean Watersheds – using the regional classification of the Terra Viva Grants Directory.
Southeast Asia and Pacific Islands: Cambodia, Laos, Myanmar, Thailand, Vietnam
East Asia: China
Sub-Saharan Africa: Burundi, Dem Rep Congo, Ethiopia, Kenya, Malawi, Mozambique, Rwanda, South Sudan, Uganda, Tanzania, Zambia
Latin America and Caribbean: Brazil, Bolivia, Colombia, Ecuador, Peru, Venezuela
Note: The grants for coastal-marine conservation are regional and national (i.e., Caribbean, Melanesia, Indonesia, and Madagascar).
Comments
MacArthur posts annual reports.
Grant seekers should consult recent grants in Conservation and Sustainable Development for an overview of the kinds of projects that interest the Foundation.

The MacArthur Fellows Program awards unrestricted fellowships of US$625 thousand each to highly talented individuals in any professional field to be used over five years. The competition is restricted to citizens or residents of the USA. Some Fellows have been important figures in international environmental conservation.
MacArthur provides contact information for its main office in Chicago, and for its regional offices in Mexico, Nigeria, and India.
Last Profile Review
January 2020