Leakey Foundation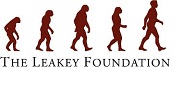 Grants for research and education on primatology in relation to the understanding of human origins
Principal Office: USA
The mission of the Leakey Foundation is to increase scientific knowledge, education, and public understanding of human origins, evolution, behavior, and survival.
In addition to its support for paleoanthropology, the Foundation also funds education and research in primatology (i.e., primate evolution, behavior, morphology, ecology, endocrinology, genetics, isotope studies, and modern hunter-gatherer groups).
Grant Programs for Agriculture, Energy, Environment, Natural Resources
1 — Leakey Foundation Research Grants. The Leakey Foundation funds research related to human origins. The research program is open worldwide, with no restrictions on residence or nationality.
The majority of grants are awarded to doctoral students. Most grants are in the range of US$3 thousand to US$15 thousand.
The Foundation also offers larger grants for senior scientists and post-doctoral students, with funding up to US$25 thousand.
APPLICATION:
Grants are made to the applicant's organization, not to individuals. An application must focus explicitly on the understanding of human origins.
Applications are submitted online in English. There are two application deadlines per year.
2 — Franklin Mosher Baldwin Memorial Fellowships. The Baldwin Fellowships help students from developing countries get advanced education and training in paleoanthropology and primatology.
The fellowships are for approved advanced training or studies outside of the applicant's home country, leading towards a masters degree or PhD in subjects of human origins and evolution. A fellowship provides for two years of support. The maximum award is US$15 thousand per year.
For questions about whether a particular research topic is eligible for support, the Foundation invites inquiries by email at least one month before the application deadline.
APPLICATION:
Applicants should be already enrolled or provisionally accepted in a graduate program related to human origins and evolution.
Applicants need to have a host sponsor in their home countries, as well as a host sponsor at the institution where they pursue their graduate studies. The Foundation favors applications that indicate financial assistance from these host institutions.
The program has an annual deadline for new applications, and a different application process and deadline to apply for second-year renewals.
About the fellowships, and how to apply
3 — Primate Research Fund. The Foundation offers an emergency fund to keep long-term primate field sites operational until other funding can be secured.
The award maximum is US$25 thousand for one year, with option on a second year of funding.
APPLICATION:
Applicants should contact the grants office for more information.
Contact the Primate Research Fund
Geographical Distribution of Grant Activities in Developing Countries
Worldwide
Comments
The Leakey Family summarizes the work and lives of Louis and Mary Leakey, pioneers in the study of human origins. Louis Leakey was a strong advocate of connecting primatology with paleo-anthropology.
The Foundation provides complete contact information for its office in California.
Last Profile Review
January 2019