Leakey Foundation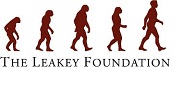 Grants for research and education on primatology in relation to the understanding of human origins
Principal Office: USA
The mission of the Leakey Foundation is to increase scientific knowledge, education, and public understanding of human origins, evolution, behavior, and survival.
In addition to its support for paleoanthropology, the Foundation also funds education and research in primatology (i.e., primate evolution, behavior, morphology, ecology, endocrinology, genetics, isotope studies, and modern hunter-gatherer groups).
3 — Francis H. Brown African Scholarship. The Leakey Foundation funds East African researchers and students pursuing research in earth sciences and botany related to human origins.
The scholarship is awarded to doctoral students or researchers of African heritage who are citizens of Kenya, Ethiopia or Eritrea. The award maximum is US$25 thousand.
4 — Field School Scholarship. The Joan Cogswell Donner Field School Scholarship provides up to US$2 thousand towards field school tuition for students who are from countries with limited resources to support training in fieldwork related to human origins research.
5 — Primate Research Fund. The Foundation offers an emergency fund to keep long-term primate field sites operational until other funding can be secured.
The award maximum is US$25 thousand for one year, with option on a second year of funding.
Geographical Distribution of Grant Activities in Developing Countries
Worldwide
Comments
The Leakey Family summarizes the work and lives of Louis and Mary Leakey, pioneers in the study of human origins. Louis Leakey was a strong advocate of connecting primatology with paleo-anthropology.
The Foundation provides complete contact information for its office in California.
Last Profile Review
December 2020