Orangutan Foundation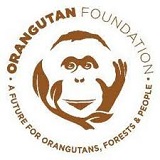 Grants and awards for orangutan conservation
Principal Office: UK
The Orangutan Foundation is a UK charity that works to conserve the threatened orangutan and its habitat in the forests of Borneo and Sumatra.
The Foundation's programs focus on habitat protection and reforestation; orangutan translocation and release; community capacity building and support for local livelihoods; environmental education and awareness; and scientific research.
Grant Programs for Agriculture, Energy, Environment, Natural Resources
Research for Orangutan Conservation. The Orangutan Foundation annually makes small research grants up to £500 each.
The Foundation offers up to four grants annually to students studying orangutan behavior and ecology, or conducting related rainforest field research in Indonesia. Preference is for research focusing on understudied populations.
APPLICATION:
The Foundation publishes grant guidelines and criteria, application forms, and application deadlines.
About grants, and how to apply
Geographical Distribution of Grant Activities in Developing Countries
Southeast Asia: Indonesia, Malaysia
Comments

The Orangutan Foundation publishes links to additional organizations engaged in conserving orangutans, other apes, and rainforest habitat.

The Foundation provides contact information.
Last Profile Review

March 2018