Rabobank Employees Fund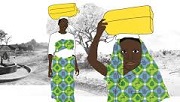 Support for small-scale projects in education and water supply
Principal Office: Netherlands
The Rabobank Employees Fund  (Rabo Foundation Employeefund) is a part of the Rabobank Group, a provider of financial services that operates on cooperative principles in over 40 countries.
The Employeefund is formally a part of the Rabobank Foundation. However, the Employeefund has its own advisory committee and its own allocation policy.
Grant Programs for Agriculture, Energy, Environment, Natural Resources
Projects in education and water supply. The Employeefund supports small-scale sustainable projects in two themes:

For water projects, the areas of interest include improved water supplies and facilities for drinking water; agricultural irrigation; information projects; and integrated water management.
The maximum grant request is €15 thousand.
About themes
APPLICATION: The Employeefund makes grants to registered legal entities in Rabobank's focus countries. Applications are welcomed from organizations that bank with Rabobank, and from Rabobank employees.
The Employeefund posts its criteria and an application form. Applications include the completed form; a project budget and financing plan; legal information about the applying organization; and background information about the organization and project.
Applications are sent by email. There is no deadline.
About how to apply
Geographical Distribution of Grant Activities in Developing Countries
The Rabo Employeefund is active in the developing countries listed below.
Southeast Asia and Pacific Islands: Cambodia, Indonesia, Laos, Philippines, Vietnam
South Asia: India, Sri Lanka
Sub-Saharan Africa: Cote d'Ivoire, Ethiopia, Ghana, Kenya, Rwanda, Senegal, Tanzania, Uganda
Latin America and Caribbean: Bolivia, Brazil, Chile, Colombia, Ecuador, Mexico, Nicaragua, Peru
Comments

Currently, each of about 6,500 employees of the Rabobank Group contributes four euros per month to the Fund. The Board of Directors doubles this donation. The Employeefund also receives special donations from employees.



The Employeefund supports between 80 and 90 projects each year.

Note: The Terra Viva Grants Directory posts a separate profile of the Rabobank Foundation.
Last Profile Review
 January 2017